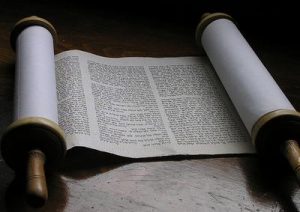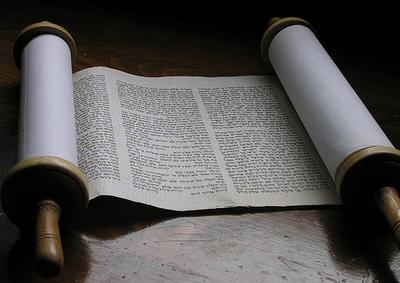 Weekly Torah Study is Saturday morning at 9. We meet in the Room 202 of Temple Brith Kodesh (enter by Door A). We decide year by year how we'll approach the weekly portion. Last year we used the weekly d'var Torah from Rabbi Jonathan Sacks as a jumping off point. This year, we're going to consider each parsha from a Mussar perspective. Each week an email is sent out (usually on Thursday) to anyone who may be interested. You're welcome on Saturday, whether or not you got the email or had time to read it. Discussions are generally lively.
In the rabbinic tradition, the text of Tazria-Metzora presents a cascade of punishments for sins related to our treatment of others: haughtiness, selfish manipulation, slander, and lashon hara, among others. The nature of the punishments is that they are graduated, which gives the sufferer several opportunities to repent. Also, the final form of punishment (a disgusting skin disease) leads to separation from others, which provides the sinner space to reset their social relationships. The rituals associated with the metzora allow a repentant sinner to reintegrate with society cleaned-up, so to speak. The implication, which the tradition highlights, is that surface problems can be blessings because they can lead to the sufferer to correct deeper causes.
Leviticus (13: 46)
He shall be unclean as long as the disease is on him. Being unclean, he shall dwell apart; his dwelling shall be outside the camp.
Rashi
Because he, by slanderous statements, parted man and wife, or a man from his friend, he must be parted from everybody.
Rabbi Henach Leibowitz
A person with tzara'as must live me'chutz la'machaneh — outside the camp … a person with tzara'as is considered a dead person. He is thought of as such due to the fact that his isolation causes him to lose his ability to give.
The punishment reflects the form of the sin. Why is haughtiness and lashon hara associated with isolation? How is the punishment reflecting the sin? Why is the ability to give so essential to being alive?
---
---
Torah Study Archive

Thumb
Title
Parshat Tazria-Metzora
April 19, 2018 by Office
Filed as: Torah Study
Parshat Shemini
April 12, 2018 by Office
Filed as: Torah Study
Parshat Tzav
March 22, 2018 by Office
Filed as: Torah Study
Parshat Vayakhel-Pekudi
March 6, 2018 by Office
Filed as: Torah Study
Parshat Vayikra
March 6, 2018 by Office
Filed as: Torah Study
Parshat Ki Tisa
March 1, 2018 by Office
Filed as: Torah Study
Parshat Tetzaveh
February 22, 2018 by Office
Filed as: Torah Study
Parshat Terumah
February 15, 2018 by Office
Filed as: Torah Study
Parshat Mishpatim
February 8, 2018 by Office
Filed as: Torah Study
Parshat Yitro
February 1, 2018 by Office
Filed as: Torah Study
Parshat Beshalach
January 24, 2018 by Office
Filed as: Torah Study
Parshat Bo
January 19, 2018 by Office
Filed as: Torah Study
Parshat Vaeira
January 11, 2018 by Office
Filed as: Torah Study
Parshat Shemot–How did Moses become Moses?
January 5, 2018 by Office
Filed as: Torah Study
Parshat Vayechi 5778
December 28, 2017 by Office
Filed as: Latest News, Torah Study
Parshat Vayigash
December 22, 2017 by Office
Filed as: Torah Study
Parshat Mikeitz
December 14, 2017 by Office
Filed as: Torah Study
Parshat Vayeshev
December 8, 2017 by Office
Filed as: Torah Study
Parshat Vayishlach
November 29, 2017 by Office
Filed as: Torah Study
Parshat Vayeitzei
November 24, 2017 by Office
Filed as: Torah Study
Parshat Toldot
November 16, 2017 by Office
Filed as: Torah Study
Parshat Chayei Sarah
November 9, 2017 by Office
Filed as: Torah Study
Parshat Vayera 5778
November 2, 2017 by Office
Filed as: Torah Study
Parshat Lech Lecha
October 26, 2017 by Office
Filed as: Torah Study
Sukkot
October 5, 2017 by Office
Filed as: Torah Study
Parshat Ki Teitzei
August 31, 2017 by Office
Filed as: Torah Study
Parshat Shoftim
August 24, 2017 by Office
Filed as: Torah Study
Parshat Re'eh
August 17, 2017 by Office
Filed as: Torah Study
Parshat Eikev
August 10, 2017 by Office
Filed as: Torah Study
Parshat Vaetchanan
August 3, 2017 by Office
Filed as: Torah Study
Parshat Devarim
July 27, 2017 by Office
Filed as: Torah Study
Parshat Matot-Masei
July 20, 2017 by Office
Filed as: Torah Study
Parshat Pinchas
July 13, 2017 by Office
Filed as: Torah Study
Parshat Balak
July 7, 2017 by Office
Filed as: Torah Study
Parshat Chukat
June 29, 2017 by Office
Filed as: Torah Study
Parshat Korach
June 23, 2017 by Office
Filed as: Torah Study
Parshat Shelach
June 15, 2017 by Office
Filed as: Torah Study
Parshat Beha'alotecha
June 9, 2017 by Office
Filed as: Torah Study
Parshat Naso
June 1, 2017 by Office
Filed as: Torah Study
Parshat Behar-Bechukotai
May 18, 2017 by Office
Filed as: Torah Study
Parshat Emor
May 11, 2017 by Office
Filed as: Torah Study
Parshotim Acharei Mot-Kedoshim
May 4, 2017 by Office
Filed as: Torah Study
Parshat Tazria-Metzora
April 28, 2017 by Office
Filed as: Torah Study
Parshat Shemini
April 21, 2017 by Office
Filed as: Torah Study
Parshat Shemini
April 13, 2017 by Office
Filed as: Torah Study
Parshat Tzav
April 6, 2017 by Office
Filed as: Torah Study
Parshat Vayikra
March 31, 2017 by Office
Filed as: Torah Study
Parshot Vayakhel-Pekudi
March 26, 2017 by Office
Filed as: Torah Study
Parshat Tetzaveh
March 10, 2017 by Office
Filed as: Torah Study
Parshat Beshelach
February 9, 2017 by Office
Filed as: Torah Study
Parshat Bo
February 2, 2017 by Office
Filed as: Torah Study
Parshat Vaera
January 26, 2017 by Office
Filed as: Torah Study
Parshat Shemot
January 20, 2017 by Office
Filed as: Torah Study
Parshat Vayechi
January 12, 2017 by Office
Filed as: Torah Study
Parshat Vayigash
January 5, 2017 by Office
Filed as: Torah Study
Parshat Mikeitz
December 29, 2016 by Office
Filed as: Torah Study
Parshat Vayeishev
December 22, 2016 by Office
Filed as: Torah Study
Parshat Vayishlach
December 15, 2016 by Office
Filed as: Torah Study
Parsha Vayeitzei
December 8, 2016 by Office
Filed as: Torah Study
Parshat Chayei Sarah
November 25, 2016 by Office
Filed as: Torah Study
Parshat Vayera
November 18, 2016 by Office
Filed as: Torah Study
Parshat Lech Lecha
November 16, 2016 by Office
Filed as: Torah Study
Parshat Noach
November 3, 2016 by Office
Filed as: Torah Study
Parshat Bereshit
October 27, 2016 by Office
Filed as: Torah Study
The Spirituality of Song — Ha'azinu
October 13, 2016 by Office
Filed as: Torah Study
To Renew Our Days — Vayelech
October 5, 2016 by Office
Filed as: Torah Study
Not In Heaven — Nitzavim
September 29, 2016 by Office
Filed as: Torah Study
The Limits of Love – Ki Teitse
September 14, 2016 by Office
Filed as: Torah Study
Keeping Our Word (Matot 5776) — August 6, 2016
August 17, 2016 by Office
Filed as: Torah Study
Devarim
August 17, 2016 by Office
Filed as: Torah Study
Parsha Korach
July 7, 2016 by Office
Filed as: Torah Study
Parshat Shelach Lecha
June 30, 2016 by Office
Filed as: Torah Study
Parshat Beh'alotecha
June 30, 2016 by Office
Filed as: Torah Study